After getting my initial animatic done it's time to hone the design of hero of the story. Below are my most recent attempts at trying to understand and design this character:
They're nice and it's starting to come together now but it's still not quite there. To try and correct this I had a talk with Justin and he gave me a lot of great advice:
To portray his anxious feelings he needs to seem more nervous, and more hunched over.

On edge all the time like a deer or a bird.

To support this his coat could also be dishevelled and untidy.

He's too busy worrying about things to take care of himself.

Coat could be lumpy, missing buttons, trailing belt, needs a good iron/clean.

Reinforce the feeling of neglect.

In the end the coat could be straightened out and clean to signify his control over his anxieties. Perhaps even adjust his proportions to seem more heroic.
The collar could be representative of him and his state of mind.

It could be a ying and yang to represent the conflict between the two states that are currently imbalanced. The collar could be dark and light greys instead of complete black and white to keep him visible in the black and white environment.

This could even be literally one half of him the light side and one the dark.

The final coat could again be different, perhaps more muted version of the previous coat using lighter greys.
Here's my work after Justin's advice: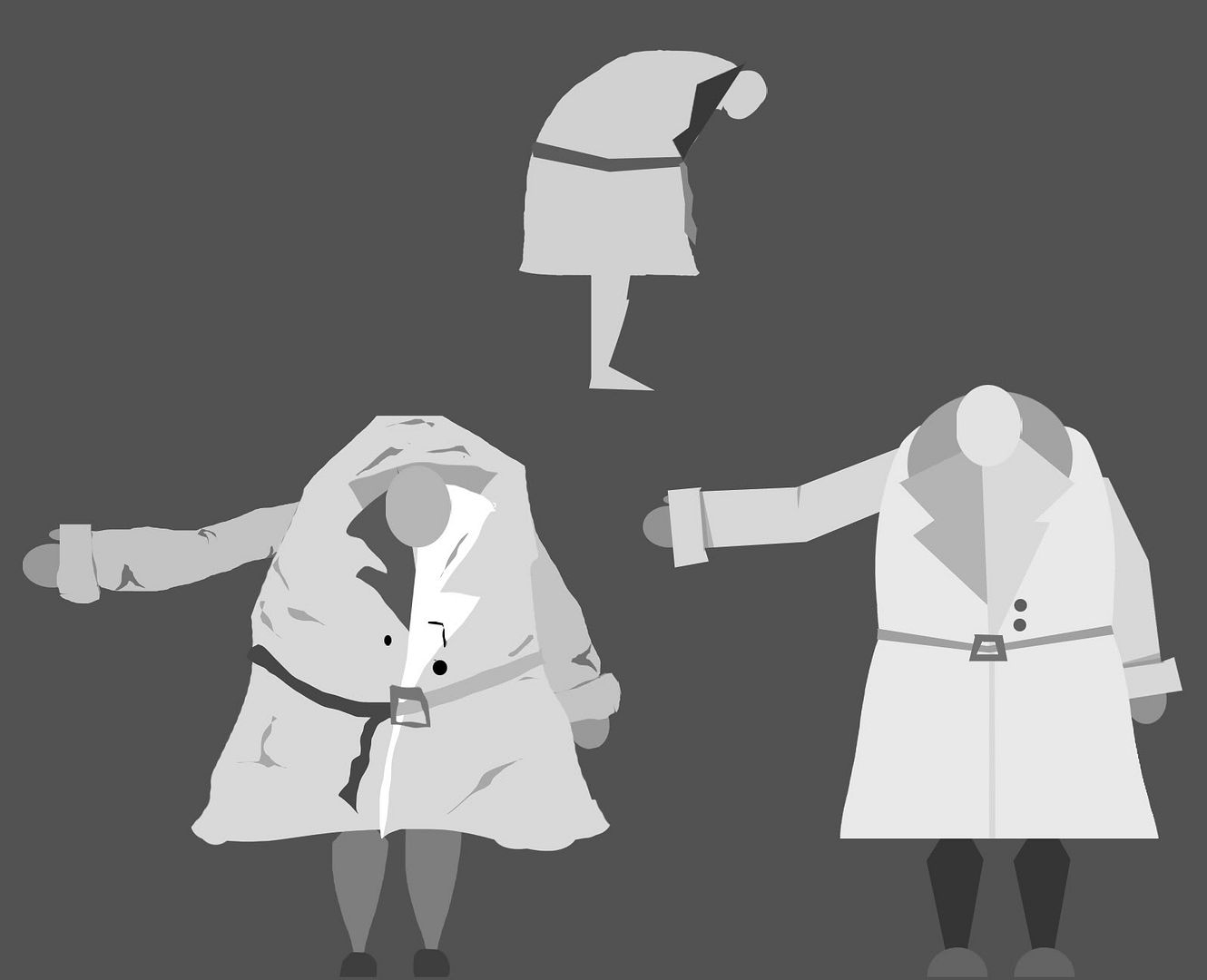 Here I tried to make him more hunched over, but perhaps it reads more like craning over rather than a hunched posture. The bottom two images are my first attempt at illustrating a before and after. The first is the more hunched and dirtied character and the second is the pristine, well balanced character at the end.
I think I need to do another page of illustrations based on Justin's help to really pin it down, but I also feel confident that I can take the advice and really run with it. Good stuff!