Fig. 1 Belleville Rendez-vouz poster.

Belleville Rendez-vous
was a wonderful example of how traditional animation is still hugely charming and enchanting to watch. One of the most enjoyable things about that film is its unabashed love of the extremes of animation, whether its in its character design or comically timed rolling cars.
Fig. 2 The Triplets of Belleville perform.
One of the first things the audience is introduced to is a nostaligc, sepia toned muscical sequence starrring the young Triplets of Bellville in a swinging 1920's club. Chris Barsanti expressed that
"This films is best described as a chase with musical interludes, and as such is a free wheeling, foot-tapping delight." (Barsanti, 2011:182) This opening sequence is a great example of that. Before it feels like the film has even started the audience is introduced to this very catchy and 'foot-tapping' music. The audience then realises what kind of film this is going to be and because of that the next most noticable feature of the film is its complete lack of dialogue. Angie Jones and Jamie Oliff explain that "The Triplets Belleville (2003): dialogue the whole film. Proving adage about using dialogue as a last resort in a big way." (Jones, Oliff, 2006:280) Although it is a very noticable feature of Chomet's film, it does not leave a hole for the viewer. There is no need for the film to have any dialogue because the visual style and musical elements speak volumes for the characters. Although the film would not have been ruined by having some verbal character interaction, which is proved by the few words that are exchanged in the film, it is a testament to the visual and aural narrative techniques that the audience is still enthralled in the film's development.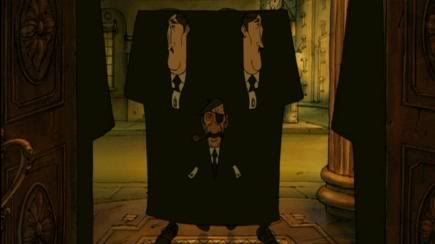 Fig. 3 Extremes of character design.
Although auditory elements of the film are very important to the success of the film, it is through the extreme and wonderful character design that its charm is secured. This is where Chomet's use of extremes is really shown; one example is his having severely square henchman that are the same in everyway, including their movements. Jerry Beck divulged that "Chomet describes his style as being based on mime and character acting, and being influenced by live camerawork to animation." (Beck, 2007:292) One of the reasons that mime artists are so fascinating is that they manage to portray an extreme version of reality. They act more physcically than a traditional actor would because they are not to use any form of verbal language when performing. They are trying to portray a character without verbally expressing their personality. When watching Belleville you soon realise that Beck has a point. The characters don't speak at all during the film, all the words are in their actions. One of the reasons their actions can be so over-the-top is because of the way they are designed. The henchmen, seen in figure 3, move very blocky and efficiently. They are as stiff as their suits and as excited as their expression dictates. Another great example are the cyclists in the Tour de France. They have beyond huge leg muscles and long bony faces that scream with pain at their exhaustion. The design of the characters reflects their movements, as the mime mimics their emotions.
Belleville Rendez-vous was an exciting, charming and beautiful film with an amazing ability to win over even the most difficult viewers. Though there were menacing themes ,the film was light with a joyous heart and beat running through it. A wonderful example of the magic of 2D animation.
List of Illustrations
Figure 1. Belleville Rendez-vous (2003) Belleville Rendez-vous
poster.
At:
http://www.movieposterdb.com/poster/05828db5
(Accessed on: 03.04.12)
Figure 2. Belleville Rendez-vous (2003)
The Triplets of Belleville perform.
At:
http://www.film4.com/images/belleville-rendez-vous-2002-01.jpg
(Accessed on: 03.04.12)
Figure 1. Belleville Rendez-vous (2003)
Extremes of character design
. At:
http://www.dvdactive.com/images/reviews/screenshot/2004/4/triplets_of_belleville_4.jpg
(Accessed on: 03.04.12)
Bibliography
Barsanti, Chris (2011)
Filmology
. USA: Adams Media
Beck, Jerry (2007)
Animated Movie Guide : The Ultimate Illustrated Reference to Cartoon, Stop-Motion and Computer-Generated Feature Films
. USA: Chicago Review Press.
Jones, Angie Oliff, Jamie (2006)
Thinking Animation : Bridging the Path Between 2D and CG.
USA: Course Technology