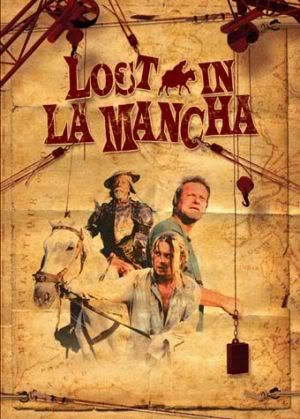 Fig. 1 Poster for Lost in La Mancha
Lost in La Mancha
was a fascinating incite into the ambitions that a director can have, and the problems that leads to. In this film, the audience follows Terry Gilliam and his fellow crew members as they try, fruitlessly, to create a film based on the story of Don Quixote.
Fig. 2 Image of Terry Gilliam from Lost in La Mancha.
Terry Gilliam is notrorious for going over budget and trying to push a project well beyond its means. He directed a film called
The Adventures of Baron Munchausen
(1988), which was one of the largest independent productions in history. The film started with an estimated budget of $25 million but after it was finished it had cost around a total of $45 million. This project soiled Gilliam's name in the film industry almost permanently. David Denby believes that "
Terry Gilliam's grandiose ambition, his desire to escape the alleged prison of realism, has blinded him to the clanking boredom of the fantasy sequences in The Adventures of Baron Munchausen
" (Denby, 1991:79), perhaps this is true to some extent. The film itself was poorly received and due to the budget fiasco the director was known as a 'loose cannon', meaning that many film companies were wary of working with him. George Perry speaks up for him though, he explained "
That he [Gilliam] has been responsible for as much originality as he has within the mainstream commercial framework is a considerable achievement in itself in an industry that always tries to categorise its talent. Gilliam is determined not to be pigeon-holed or substituted, and would be unable to function in any other way.
" (Perry, 1995:79) His films, usually perceived to be 'too British for American audiences' have earned great acclaim and success at the box office, with examples such as
Time Bandits
and
12 Monkeys
.
Despite his previous successes he has been, and is to an extent still is, seen as a very difficult director to work with.
Lost in La Mancha
is a very successful insight into why some people would perceive him that way. David Morgan revealed "
Gilliam's working habits do not travel well. Though he is thorough in preparing films down to the most minute detail, the time it takes to carry those details onto film never matches his hopes
." (Morgan, 2004:38) Both the pre-production and production itself of Don Quixote were constantly being set-back by the changes that Gilliam wanted to make. His ambition throughout the making of this film was constantly increasing along with his demands on his crew. In one scene, he describes that he wants a small army of puppet knights, they are produced for him, and then he later decides he needs them changed so the puppets chests can open up and bite the character's arm. It would most likely look great but the constant demands on those that around him takes a toll on the morale. A long time friend of his, Ray Cooper, explains that he's a "
responsible enfant terrible
" (
Lost in La Mancha
, 2002), that his passion for his film can lead to unconventional and sometimes shocking behaviour that greatly worries those around him. Gilliam himself describes that Don Quixote is "
going to be beautiful and terrible at the same time
." (
Lost in La Mancha
, 2002) and judging from how his production went, it wouldn't be surprising.
Lost in La Mancha
shows exactly how stressful and complicated it can be to shoot a film. A whole day can be wasted when trying to move locations, as often Gilliam would be seen chasing sun to try to continue with a scene, only to discover that there's so little time to shoot that they need to either wait until tomorrow or film something else completely. A lot of problems were caused when the majority of their filming materials and equipment were seriously damaged during torrential rain. They had been provided little budget as it was, due to it being filmed entirely by European money, and their insurers were unable to replace the equipment without then losing important filming time. The first assisstant director, Phil Patterson, described it as "
absolute and faffing disarray
" (
Lost in La Mancha
, 2002), an accurate description for the stress, the disorganisation and the results of Gilliam's demands on his crew. After seeing the extent to which his ambition and desire to make this film went, it is a real shame it never came to fruition. He entirely desired the best for this film, it could have been a masterpiece, instead it may just act as another black spot on the director's record. Here's hoping for the future.
Figure 2. Lost in La Mancha (2002) Image of Terry Gilliam in Lost in La Mancha. At: http://blog.80millionmoviesfree.com/wp-content/uploads/2010/07/terry-gilliams-the-man-who-killed-don-quixote.jpg (Accessed on: 30/09/11)
Bibliography
D. Denby (1991) A Fine Mess. In: New York Magazine. 7 Oct 1991, pp. 79.
Gilliam, Terry, Morgan, David (2004) Terry Gilliam: interviews. Mississippi: Univ. Press of Mississippi
Lost in La Mancha (2002) Directed by Keith Fulton [DVD] Navarra, Madrid, Spain: Quixote Films, Low Key Productions, Eastcroft Productions.
Perry, George (1995)
The Life of Python.
London: Pavillion Books