Last weeks character design was focusing on turning inanimate objects into a hero, villain and sidekick. We were all given a room and we had to choose 3 objects from that room that could be turned into these characters; mine was a shed:
First thoughts were-
Hero: Shovel/toolbox
Villain: Garden fork/Rake
Sidekick: Old tin of paint.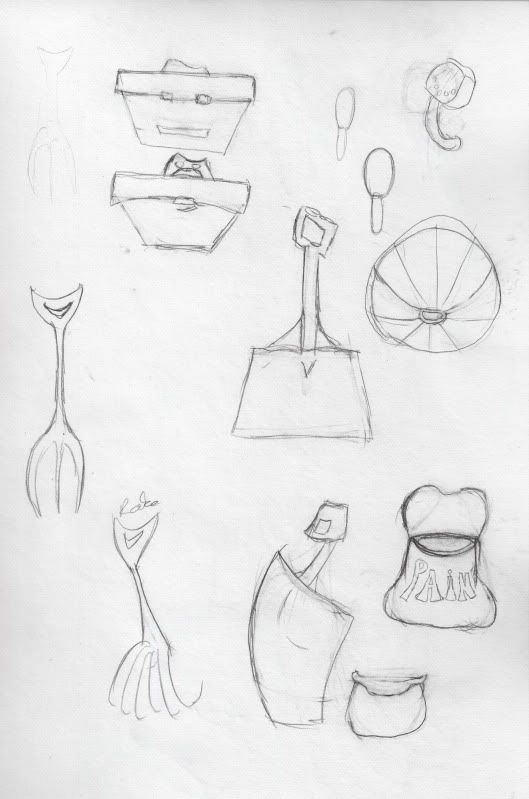 As you can see from the above image, other than the rake there are no particularly strong designs. I stuck with the shovel at the bottom for a while but Justin rightly said that you wouldn't know what it was to look at it.
At this point I like the rake but the paint pot wasn't working so I tried using an old sack of compost (or something similar) as the dopey sidekick. Justin thought it was a nice idea so he drew out a couple of helpful pictures (I changed his work to red) to give me a bit of guidance. He also pointed out that the rake was much too flexible, it was moving away from the object again so I should think about making the teeth at the bottom more of a mouth.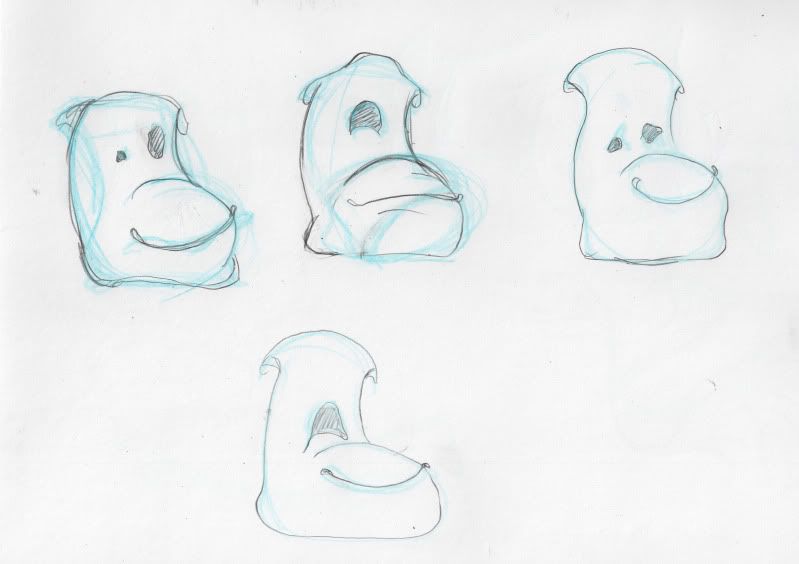 Here are a few attempts at changing my sidekick. Originally the thing that looks a bit like a hole was a rip in the bag to represent a mouth but Justin said this wasn't clear enough so it may be better as an eye. I played around with the different eye shapes and it was getting there I think.
These are the last couple of drawings I was going to use as a starting point for my hero and villain but we then moved on to prop design.
For the prop design we were handed a character each that we had to create a prop for that looked like if anyone else were to hold it, it would look wrong. It had to look like it belonged to the character, so for mine (Pocahontas) I chose to design her a bow and quiver: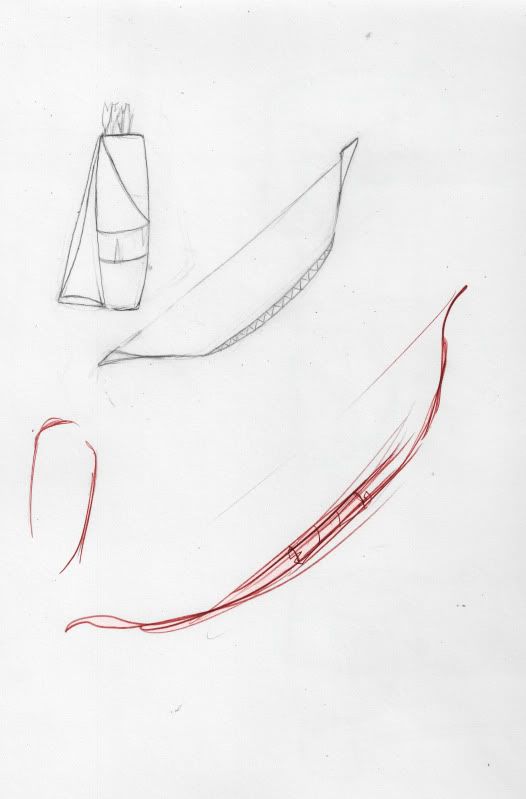 Justin liked the idea and I think it was almost right. As you can see from his drawings, it needed to look stronger and the quiver still looks vase-like rather than strong and practical. This was a really nice exercise though, I think it's something I'll use later if I get stuck on my own characters.
Excellent workshop though and onwards to my characters' props and costumes! :D